General Information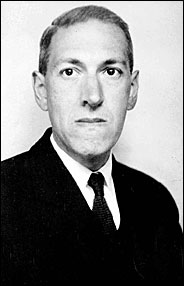 Howard Phillips Lovecraft
(August 20, 1890 – March 15, 1937) was an American author who achieved posthumous fame through his influential works of horror fiction.
Early life
Lovecraft was born in Providence, Rhode Island, where he spent most of his life. His father was confined to a mental institution when Lovecraft was three years old. Lovecraft began composing rudimentary horror tales by the age of eight, but suffered from overwhelming feelings of anxiety. He encountered problems with classmates in school, and was kept at home by his overprotective mother for illnesses that may have been psychosomatic.
In high school, Lovecraft was finally able to form friendships. He also involved neighborhood children in elaborate make-believe projects, only regretfully ceasing the activity when he turned seventeen.
Despite leaving school in 1908 without graduating, Lovecraft had developed a formidable knowledge of his favored subjects, such as history and astronomy. He seems to have had some social life, attending meetings of a club for local young men at this point in this life. Lovecraft, in early adulthood, however, became a reclusive "nightbird" lifestyle without occupation or pursuit of romantic adventures.
Beginnings
In 1913 his conduct of a long running controversy in the letters page of a story magazine led to his being invited to participate in an amateur journalism association. Encouraged, he started circulating his stories to see who was interested in them.
Attempt to join the military
In 1917, when the United States entered the First World War, Lovecraft tried to join the Rhode Island National Guard and later, the U.S. Army. However, in both cases, he was rejected for health reasons.
First publication and marriage
He was finally published for the first time in a professional magazine when he was 31. Lovecraft soon married an older woman named Sonia Greene, whom he had met at an association conference. And thus ended up leaving Providence and moving to New York City with her.
Unfortunately, soon after, Sonia Greene lost her business and was forced to move to Cincinnati, Ohio, to find work, while Lovecraft remained in New York. However, he found life in NYC unbearable.
Lovecraft and Sonia Greene would never live together again. The marriage ended in 1929, although some accounts say that they were never formally divorced.
Return to Providence
Lovecraft finally returned to Providence 1926 . Over the next nine months, he produced some of his most celebrated tales, including "The Call of Cthulhu", canonical to the Cthulhu Mythos.
Never able to support himself from his earnings as author and editor, Lovecraft saw commercial success increasingly elude him, despite producing some of his best works during this period.
Death
In the early 1930's, Lovecraft began to complain of stomach pains. By the time he was diagnosed with intestinal cancer, it was too late to do anything about it. He died at the age of 46 on March 15, 1937.
Legacy
It would not be until after his death that the fame that had so eluded him in life would finally find him. Thanks to a publishing company called Arkham House (named after his fictional town), Lovecraft finally found his audience.
Today, many major Science Fiction and Horror authors, such as Stephen King, Clive Barker, and F. Paul Wilson, cite Lovecraft as a major influence on their writings.
Nearly a century after his death, H.P. Lovecraft is considered one of the greatest Science Fiction and Horror writers of the 20th Century.