General Information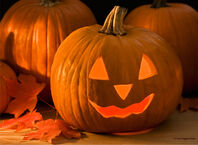 Halloween is a yearly celebration observed in a number of countries on October 31st.
Halloween has pagan roots, particularly the Gaelic Samhain, once celebrated in the British Isles.
Typical Halloween activities include trick-or-treating, attending costume parties, decorating, carving pumpkins into jack-o'-lanterns, bobbing for apples, visiting haunted attractions, telling scary stories, and watching horror films.
Halloween birthday
Halloween happens to be the birthday of Randolph Carter, who was born on Halloween of 1992.
Rex and Hannah's Halloween adventures
Rex Buckland and Hannah Webster always seem to have an adventure on or around Halloween. Here is a list of said adventures, in descending order.
Halloween of 2017
Samhain returned to spend Halloween with Rex and Hannah. The three of them embarked on a road trip to help Vanishing Hitchhiker ghosts to cross over.
Rex and Hannah threw another Halloween party, which doubled as a 25th Birthday party for Randolph Carter.
Halloween of 2016
This Halloween saw Rex and Hannah encounter a mysterious ghost who called herself Samhain, the Spirit Of Halloween.
The two former Warlocks also entertained their friends in Arkham with a Halloween party, which was held at their house.
Halloween of 2015
This Halloween saw another visit from the future historian, Kalu and the solving of the mystery of Herbert West.
Rex and Hannah finally got married this Halloween.
Halloween of 2014
Around this Halloween is when Rex and Hannah investigated the Black Stone of the Mi-go in Vermont.
The two former Warlocks also helped two Vanishing Hitchhiker ghosts cross over.
Halloween of 2013
This Halloween saw Rex and Hannah help the ghosts of the U-28 recover their Iron Cross.
Halloween of 2012
This Halloween saw Rex and Hannah travel to Britain to visit the ghost of Queen Boudicca.
Halloween of 2011
This Halloween saw Rex and Hannah travel to the dark planet, Yuggoth.
Halloween of 2010
If anything happened to Rex and Hannah this Halloween, it has yet to be recorded.
Halloween of 2009
Rex and Hannah attended a Halloween party at Halliwell Manor with Paige Matthews and her two half-sisters for the first time.
Halloween of 2008
Rex and Hannah pursued the Demon, Lucius, back to 1950's San Francisco.
References
Rex and Hannah Chronicles Story No. 48: A Halloween Road Trip
Rex and Hannah Chronicles Story No. 44: Spirit Of Halloween
Rex and Hannah Chronicles Story No. 40: The Secret Of The House
Rex and Hannah Chronicles Story No. 39: The Inner Circle
Rex and Hannah Chronicles Story No. 32: The Black Stone
Rex and Hannah Chronicles Story No. 31: Last Mission Of The U-28
Rex and Hannah Chronicles Story No. 28: The Fallen One II
Rex and Hannah Chronicles Story No. 26: The Dark Planet
Rex and Hannah Chronicles Story No. 16: Halloween Thoughts
Rex and Hannah Chronicles Story No. 3: Journey To Yesterday