Information
The house currently occupied by
Rex Buckland and Hannah Webster
, lies a few miles outside the town of
Arkham
, Massachusetts.
The house consists of four levels altogether.
There is the basement level that contains the furnace and other such necessities.
The main floor consists of the living room, dining room, a large study, a kitchen, and a bathroom.
The upstairs consists of another bathroom and four bedrooms (the Master Bedroom has its own small bathroom attached).
Finally, there is the attic level.
Rex and Hannah move in
Rex and Hannah took up residence in this house, in early 2015, when Rex accepted the job as head of the Ancient Languages Department at Miskatonic University. Miskatonic University owned the house, and they were quite willing to lease it out to Rex and Hannah, as part of the incentive to get them to move to Arkham.
However, what Rex and Hannah were unaware of at the time was that the Inner Circle, led by Randolph Carter, had been behind the whole thing.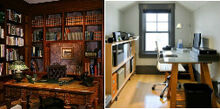 Upon moving in, Rex quickly filled the large study on the main floor with his collection of books and scrolls, including the Necronomicon. Also located in the study is the cabinet in which Rex kept the Magical weapons that he and Hannah had captured during their time in the Warlock Insurgency.
Hannah took over one of the unused extra bedrooms upstairs and turned it into her own personal home office. It was in her home office that Hannah wrote her article, Arkham Oddities, that would be published in the Arkham Gazette.
Both Rex and Hannah have commented that they enjoy the space that their new house afforded them.
Sinister reputation
Rex and Hannah also learned of the strange history of their new house. It had once belonged to Dr. Herbert West, a onetime alumni of Miskatonic University, back in the early 20th Century. West had become obsessed with bringing the dead back to life and was rumoured to have conducted sinister experiments to achieve that aim. Herbert West vanished under mysterious circumstances in 1921.
It would not be until Halloween of 2015, that Rex and Hannah would learn the truth of what had become of Herbert West. In reality, he'd been shot by his assistant, Dan Cain, and his remains sealed up in the same basement alter room he had created. Although no one knew it for decades, West's ghost then haunted the house (see Herbert West's own page for further details).
Following West's disappearance, the house acquired a sinister reputation. It had many short stay owners over the following decades. Finally, the county decided to have it torn down. However, the Arkham Historical Society got involved. They felt that such an old house should be preserved. The head of that society was also a prominent professor at Miskatonic University at the time. Said professor began to lobby Miskatonic University to buy the house, which they finally agree to do in 1953. Most of the time it was used for storage and occasionally rented out for official functions.
It was not until Rex and Hannah took up residence, in early 2015, that the house would be a home again.
As of this writing, Rex and Hannah continue to reside in their new home.
References
Rex and Hannah Chronicles Story No. 34: New Frontiers
Rex and Hannah Chronicles Story No. 36: Arkham Oddities
Rex and Hannah Chronicles Story No. 37: Skeletons In Closets
Rex and Hannah Chronicles Story No. 40: The Secret Of The House
Ad blocker interference detected!
Wikia is a free-to-use site that makes money from advertising. We have a modified experience for viewers using ad blockers

Wikia is not accessible if you've made further modifications. Remove the custom ad blocker rule(s) and the page will load as expected.